We have been doing a lot of exciting things in school recently. Click here to see the report.
Some of our activities:
Dave with Nocturnal animals
Mrs Wendy -teaching dancing
Cricket
Year 1 cake sale which raised £140.00
Click here for the letter sent regarding safeguarding and attendance.
We are delighted that we have been awarded The Basic Skills Award for the second time. We were re-assessed after three years. You can read the report in Statutory Information. Well done to all the staff and the children.
Check out the gallery for pictures of the balloon release we did 23 January to mark Milton Keynes being 50.
We have had a busy term in school since September. The children have enjoyed lots of fun outings and more.
Year 2 have both held their class assemblies.
Year 2 have visited the local canal and Waddesdon.
Year 1 have visited Tingewick Farm and Tesco in Wolverton.
Year 1 and Year 2 have had the parents in to see phonics lessons take place. These were beneficial to our parents that came.
Foundation spent an afternoon with their buddies in year 2. They enjoyed tasting the apple crumble that the children had helped to make.
The children enjoyed Movie Night.
Wednesday 19 October Foundation Stage held their first Harvest Assembly.
Thursday 20 October KS1 held their Harvest Assembly.
The whole school went the see Dick Whittington at Milton Keynes Theatre
Click here to see the results from our recent questionnaire sent to our parents.
We are delighted to have received our OFSTED report.
Please click here to view it.
Letter regarding OFSTED report.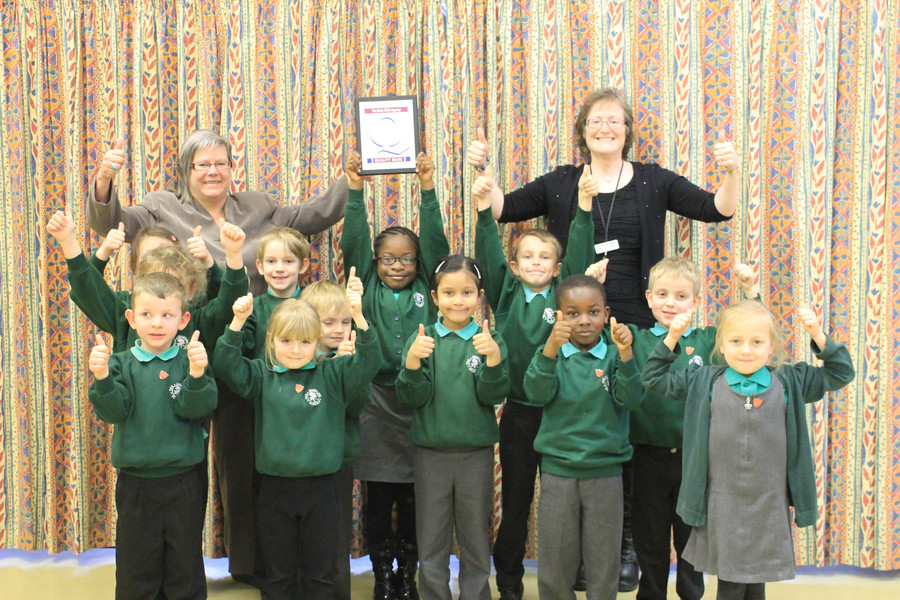 We were delighted to be presented with our plaque for achieving the 'Quality Mark for Basic Skills' this week in assembly. The children all performed their favourite story.
The plaque was presented to the School Council by Mrs Nicholson.
QUALITY MARK for Basic Skills
We are delighted to inform all parents and carers that our school has been awarded the Basic Skills QUALITY MARK. This is an award that celebrates and supports continuous improvement in literacy and numeracy, and recognises our provision of the practice and performance these subjects. It proves that we have demonstrated a whole school approach to improving standards, with evidence of the impact of its approaches. The Assessor spent Tuesday in School, observing and meeting people.